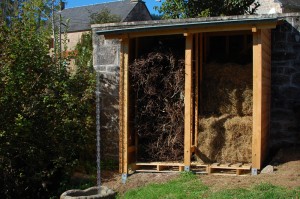 This small shed was constructed to protect our grass bales and Hazel faggots. We found a just-right length of galvanised steel guttering in a nearby reclamation yard, and were struggling with how to connect this to a downpipe; practically and aesthetically.
We remembered that the newly constructed church in Buckfastleigh, Devon, where we once lived, used a length of chain instead of metal downpipe to connect the gutter to the drain. It looked like a highly improbable solution, especially given the size of the roof, but it worked.
Armed with God's approval, we set about creating our own example. However, we could not find a sufficiently long or rebust-looking length of reclaimed chain anywhere, and didn't really want to buy something new and gleaming that might look out of place.
Memory came to the rescue again. Stashed in the attic was a box of zinc roof tile hooks, left over from when the roof was replaced quite some years ago.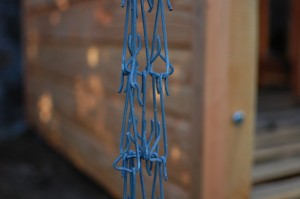 Linked together, they form an interesting chain.
The bottom, squared-off loops were originally left more open than this, so the whole chain was a series of upward-facing spikes. However, while straining to move a large boulder nearby, I slipped forward, catching the sharp end of one of them on the edge of an eye socket. For one horrible moment, when I saw the look on N's face after she caught sight of the trickle of blood, I thought a rush to the hospital might be needed ( is it possible to stitch a punctured eyeball ? ), but thankfully my luck reserves were plentiful, and the only lingering result of my stupidity is a small Action Man scar on the eyelid. Oh, and a more Health and Safety conscious chain, having closed the loops.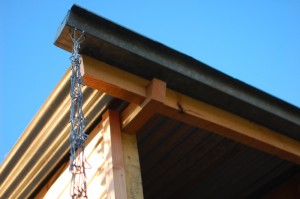 A series of holes were drilled into one end of the guttering, and the chain hooked into them.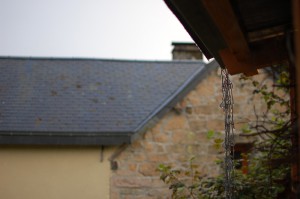 Magically, the collected rain trickles out of the holes in the guttering, down the chain, to be collected in …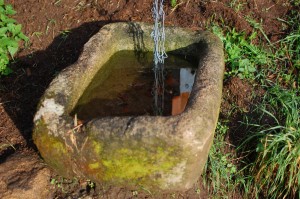 … an old granite basin that we found half-buried in the garden when clearing space in preparation for digging the French drain.